Germany and Switzerland
Heinrich (Henry) Ochsner was born in Zurich, Switzerland on April 16, 1865. On October 8, 1890, he married Anna Ludescher, who was born in Kadelburg, Germany on January 3, 1866. He was 25; she was 24.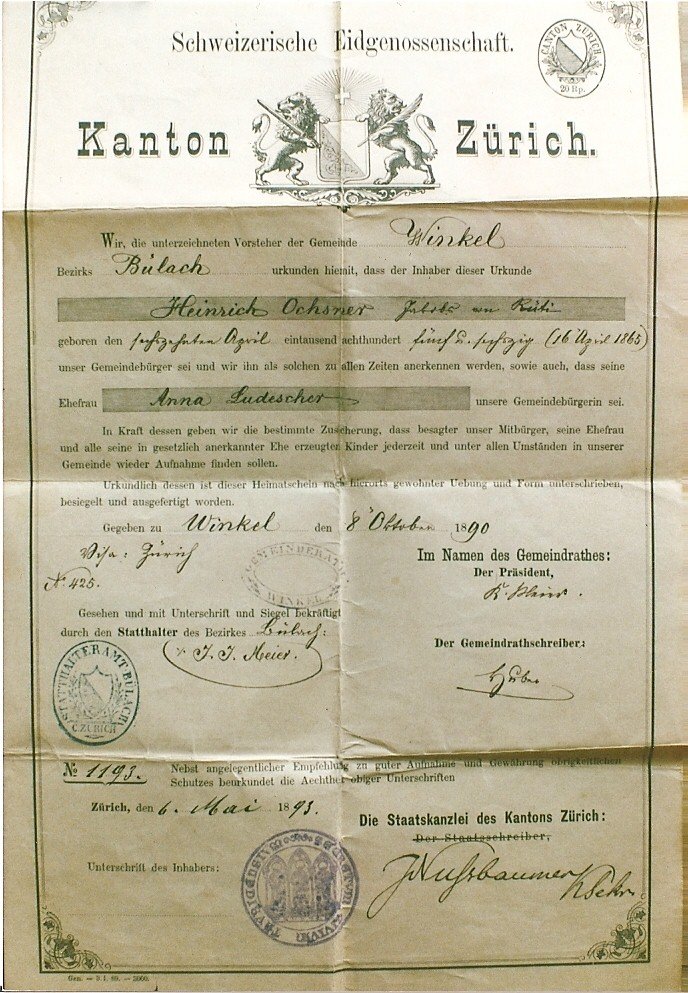 On the same day they were married, Henry applied to the Swiss government for a grant of sanctuary. With the political turmoil occurring within Germany and surrounding countries, people were looking for a place where they could live unmolested by foreign governments. Switzerland offered this protection. Securing this document was the first of several things Henry did to provide for his family.
Henry and Anna had their first child, a son named John, in 1891. He died at birth. Their second child, daughter Anna (Annie), was born in Zurich on July 6, 1892.
Soon after the birth of their daughter, Henry and Anna made plans to go to the United States of America. Henry's older brother, Albert, was already in the States working as an engineer for the Fred Sehring Brewing Co. in Joliet, Illinois. Albert's letters to his younger brother were filled with comments enticing Henry to come to Joliet, where there was ample work for honest, hard-working young men.